Inventory
2018 KTM 1290 SUPER ADVENTURE R
2018 KTM 1290 SUPER ADVENTURE R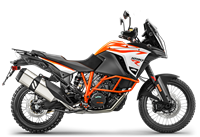 Call for monthly PROMOTIONAL offers on select units. Tax, licensing and additional fees not included in marked price.
Description
True adventure takes guts, so KTM's rally experts brought out the big guns and packed 1.301cc, 140 Nm of torque and 160 hp into the world's most advanced Travel Enduro chassis. This makes for a mile-munching omnivore, ready to carve its name into any terrain – the tougher, the better.
It is our most extreme ADVENTURE ever, full stop. Full throttle.
Specifications
ENGINE
DESIGN
2-cylinder, 4-stroke, V 75°
LUBRICATION
Forced oil lubrication with 3 oil pumps
SECONDARY GEAR RATIO
17:42
CLUTCH
PASC (TM) slipper clutch, hydraulically actuated
EMS
Keihin EMS with RBW and cruise control, double ignition
CHASSIS
FRAME DESIGN
Chromium-Molybdenum steel trellis frame, powder coated
FRONT SUSPENSION
WP USD Ø 48 mm
REAR SUSPENSION
WP-PDS Monoshock
SUSPENSION TRAVEL (FRONT)
8.66 inch
FRONT BRAKE DISC DIAMETER
320 mm
REAR BRAKE DISC DIAMETER
267 mm
ABS
Bosch 9ME combined ABS (incl. cornering ABS and offroad mode, disengageable)
WHEELBASE
62.2 ± 0.59 inch
SUSPENSION TRAVEL (REAR)
8.66 inch
TANK CAPACITY (APPROX.)
6.08
Features
ENGINE & EXHAUST
Based on the 1,301cc V-twin of the KTM 1290 SUPER DUKE R, aka "The Beast", the KTM 1290 SUPER ADVENTURE R is clearly the Alpha in its segment.
ENGINE The engine packs one hell of a punch for fully loaded tours, has truckloads of torque from the bottom up and hardly ever needs hurried downshifts. Therefore, the 1290 R is equally happy cruising around town as it is giving Superbikes a run for their money when the chips are down. With 160 hp and 140 Nm of torque on tap, of which 108 Nm is already available at 2,500 rpm, we wouldn't bet against it.
TRANSMISSION A spread transmission on the primary wheel transfers the power to the clutch basket without any backlash, which eliminates vibration and reduces engine noise. On the intake sides there is a newly developed resonator chamber, designed to polish the torque output in the lower to mid-range rpms. This substantially increases the smoothness of the KTM 1290 SUPER ADVENTURE R power train.
POWER ASSIST SLIPPER CLUTCH Not only does the slipper clutch open when the engine back-torque becomes too high, it also assists when you open up the throttle. The former prevents destabilizing rear wheel chatter when braking sharply or decelerating; the latter reduces the lever force required for changing gear, allowing the clutch to be controlled with just one trigger happy finger.
CYLINDER HEADS A key element in the flawless power delivery of the 75° V-twin is each cylinder's state-of-the-art 4-valve cylinder head. These combine twin plug ignition, flow-optimized ports and a slick low-friction valve train with cams from each cylinder's twin overhead camshafts driving DLC-coated cam followers.
DLC COATING DLC (Diamond-Like Carbon) is an extremely hard, durable and tribologically (i.e. in terms of sliding behavior) particularly well-suited coating that KTM uses in many parts (f.e. cam followers). Our engines love it.
TWIN IGNITION The twin plug ignition system controls the two differently sized spark plugs in each cylinder head independently of each other in order to optimize combustion. The result: more (and more controlled) power, lower fuel consumption and lower emissions. Good for the planet and good for you.
PISTONS The forged piston structure on the KTM 1290 SUPER ADVENTURE R, borrowed from Formula 1 technology, results in a high loading capacity despite its extremely short and lightweight design. Although they have grown in diameter by three millimeters compared to those of the KTM 1190 ADVENTURE, the pistons on the KTM 1290 SUPER ADVENTURE R are a whole 47 grams lighter. This way, reciprocating weight is minimized, thereby maximizing the responsiveness and frivolous nature of the engine. The piston skirts have an additional state-of-the-art, Grafal® finish. Not only does this even further reduce friction, it is also particularly hard-wearing.
CRANKSHAFT The responsiveness and free-revving nature of the engine are also enhanced by the very low reciprocating weight of its crankshaft. Moreover, the flow-optimized shape of the crank webs boosts the particularly low-loss running of the crank drive.
OVERDRIVE The sixth gear serves as a long overdrive in the KTM 1290 SUPER ADVENTURE R's well-spaced gearbox. This saves fuel and adds to your cruising comfort.
RIDE-BY-WIRE At KTM, ride-by-wire is more than simply the absence of a throttle cable. It's the guarantee of a smooth throttle response. The KTM 1290 SUPER ADVENTURE R's system ensures perfect application of the readily available and plentiful torque. It also electronically translates the throttle commands of the rider into throttle valve positions perfectly suited to the riding conditions. The RBW system is fully compliant with the strict DIN 26262 safety standard from the automobile sector.
LONG SERVICE INTERVALS A unique mix of the highest quality components combined with a fully developed and reliable engine allows extremely long service intervals of 15,000 km. That's a lot of adventures.
POWER-TO-WEIGHT-RATIO The combination of lightweight chassis engineering and a compact but powerful engine take the KTM 1290 SUPER ADVENTURE R to the top of its class in terms of power-to-weight ratio and ride dynamics. This fully equipped adventure bike tips the scale at 240 kg, while carrying a substantial 23 liters of fuel. This makes the KTM 1290 SUPER ADVENTURE R – in typical KTM style – one of the lightest motorcycles in its segment. Add an outstanding geometry, well-balanced stiffness distribution and high quality suspension components and you end up with a true corner stormer. This also boosts safety, since it is far easier to fling a nimble motorcycle around a source of danger than a heavy one.
CHASSIS
In adding the 'R', we add a promise: excellent offroad abilities. So you get a 21 inch wire-spoked wheel at the front, 18 inch at the rear, floating on 220 mm of fully adjustable WP suspension. On top of that, KTM's signature tubular trellis frame, steel crash bars and a high strength, die-cast, open-lattice swingarm are more eager than ever to earn their stripes. And that's just the chassis side of things.
FRAME The chrome-molybdenum steel trellis frame makes a major contribution to the bike's excellent chassis geometry. It's a rugged, laser-cut, robot-welded thing of beauty with a glorious surface finish. And at only 9.8 kg, it helps to keep the total, unfueled weight at a spectacular 217 kg. All muscle, no fat.
SWINGARM The die-cast, open-lattice swingarm is not only particularly light, it's also precisely manufactured. The design has been optimized for stiffness and stability while still offering excellent flex characteristics.
WHEELS Offroad standards demand suitable tools, so we fit the KTM 1290 SUPER ADVENTURE R in-house with our patented, tubeless, wire-spoked 21"/18" wheels. They combine all the benefits of a tubeless tire (easy fitting and dynamic advantages due to the lack of an inner tube) with the stability and robustness of a wire-spoked wheel. This set-up makes the SUPER ADVENTURE R's rims substantially more resilient than all the competition's cast and spoked wheels. You'll see.
SUSPENSION A robust 48 mm UPSD fork with extra stiff springs in the front, a PDS shock absorber in the rear. All made by WP, all fully adjustable, all happy to take a serious beating. And they'll make you enjoy it too. Suspension travel: 220/220 mm.
STEERING DAMPER With so much propulsive power, the front wheel can become very light, which can lead to unpleasant kick-back on uneven roads. The KTM 1290 SUPER ADVENTURE R prevents this with a subtle WP steering damper that will be there when you need it.
BRAKES Precise. Powerful. Stunning. Just as you would expect from a set of Brembo brakes. Up front you'll find twin 320 mm discs, radially mounted, 4-piston fixed calipers and a radial master cylinder. At the rear, excess speed is taken care of by a generously dimensioned 267 mm disc. And in case of an emergency, Bosch's two-channel 9ME C-ABS speeds to the rescue.
FUEL TANK The KTM 1290 SUPER ADVENTURE R is not only light, powerful and dependable; thanks to low fuel consumption, a 23-liter fuel tank and 15,000 km service intervals it also hardly ever needs to take a break.
ERGONOMICS & COMFORT
At KTM, individualists are welcome. The bike's ergonomics can be adjusted to suit the preferences and stature of any rider, wherever they may roam: Two handlebar clamping positions: horizontal +/- 10 mm, Two footpeg positions: 10 mm up and back (diagonally), Hand levers with 5 reach settings
HANDLEBAR Two handlebar clamping positions: horizontal +/- 10 mm.
HAND LEVERS Adjustable hand levers.
ILLUMINATED MENU SWITCH Illuminated switches don't only look good, you locate the most important buttons in the blink of an eye. At night.
FOOTPEGS Two footpeg positions: 10 mm up and back (diagonally).
SEATS This is where you'll - hopefully - spend a lot of time, so the seat has to provide support, feedback and freedom of movement. Thanks to KTM's state-of-the-art 3D foam padding, the one-piece offroad seat of the KTM 1290 SUPER ADVENTURE R has your back. No matter if you ride it to the local shops or the ones across the Sahara, both rider and passenger will get there in comfort.
WINDSHIELD The "R" model features a short windshield. So even when your handlebar moves a lot in rough terrain, it won't hit your helmet. The windshield's height can be changed as quickly as you can change your mind, thanks to the easily operated self-locking winder.
BODYWORK & GRAPHICS
The heritage of many rally raid victories, all the latest technology, raw power and great ergonomics come together in the bodywork of the 1290 SUPER ADVENTURE R.
DASHBOARD The KTM 1290 SUPER ADVENTURE R supplies its rider with all necessary and desirable information on a state-of-the-art, clearly arranged 6.5" TFT display. Even in direct sunlight, core data is displayed clear and crisp thanks to its bonded, anti-glare surface made of a strong sheet of glass. But don't worry about spots or smears; the anti-fingerprint coating has this covered. The screen also automatically adapts to ambient light levels and its angle is adjustable, so you won't miss one bit of information. On top of the obvious data (speed, revs, fuel level etc.), the computer can show a favorites menu with up to 8 adjustable features, an MSC ride modes overview and a riding conditions page (outside/oil temperature, onboard voltage, various trips, average speed, average and current fuel consumption, range and the distance to your next service). Crystal clear and easy to operate, even when you're in a hurry.
MENU SWITCH Different modes for the various rider aids can be selected using an illuminated menu switch on the left side of the handlebar. It's very simple and intuitive: "up" and "down" through the menu selection, select the desired menu item with the left button, confirm it with the right. Child's play, basically. And you can make it even easier by personalizing your settings pages with two quick-select menus.
USB PHONE POCKET A compartment keeps your smartphone safe on the road. It keeps it charged too, thanks to its integrated USB socket. Meanwhile, the optional incoming calls and audio function links the phone to the bike via Bluetooth. It's always nice to let people know you absolutely have to take that enormous detour.
MULTIFUNCTIONAL LED HEADLIGHT Form and function are integrated beautifully in the 1290 R's design. Take this headlight, for example. The central aluminum part holds the LEDs and keeps the unit cool. It is flanked by two more LED strips: the daytime running lights. Another set of LED cornering lights round things off at the bottom. They use the lean angle sensor of the MSC system to adjust their intensity in real-time. Unlit corners? A thing of the past. With a KTM 1290 SUPER ADVENTURE R, the future is bright.
SOFTWARE & ELECTRONICS
Sheer power under full control with the manners of a beast are made possible by the smoothly operating software and electronics. MTC, Cornering ABS and ride modes support your riding gently and almost imperceptible. The only intervention you notice is the smile on your face.
MSC WITH C-ABS (COMBINED ABS) AND OFFROAD MODE The ultimate in safe deceleration: one component of the comprehensive Bosch MSC assistance package is the world's first lean-sensitive cornering ABS. Based on the high-quality 9ME modulator, it unites the talents of combined braking and lightning-quick, efficient pressure modulation with the high quality Brembo hardware to make the most advanced braking system on the market - no-one brakes more progressively or safely, even at extreme lean angles. When the front brake lever is actuated, the rear brake is applied simultaneously to optimize stability. If required, not only can it be switched off, but also placed in Offroad mode. This allows the rider to block the rear wheel when required - a prerequisite for committed offroad riding and deliberately executed slides. The ABS function remains active on the front wheel, even in this mode.
TPMS (TIRE PRESSURE MONITORING SYSTEM) As its name implies, the TPMS monitors tire pressure (visible in the display) and warns the rider in the event of pressure loss, for example due to tire damage.
MTC (MOTORCYCLE TRACTION CONTROL) The Motorcycle Traction Control (MTC), a lean-sensitive traction control system, reacts immediately if the rotational speed of the rear wheel is disproportionate to the riding situation. In a matter of milliseconds, MTC reduces the engine output with an extremely smooth, barely perceptible intervention at the throttle valves, until the system has reduced slippage to optimum proportions for the selected ride mode and current angle of lean. Depending on that mode, MTC allows four different levels of traction slip at the rear wheel. 'Sport' is game for a perceptible amount of slippage, 'Street' keeps things smooth for comfortable, controllable riding with full engine power, 'Rain' is all about early intervention and maximum grip in the wet and 'Offroad' allows up to 100% of slippage - i.e. double the wheel speed - for ambitious offroad use.
ATIR (AUTOMATIC TURN INDICATOR RESET) After 10 seconds of movement and 150 meters of riding distance, the turn indicator will stop automatically. If pressed meanwhile, it counts from zero again. A big improvement in terms of safety, as it is now impossible to forget to reset the indicators.
OFFROAD RIDE MODE Once this mode is engaged, the ride-by-wire limits the throttle response and peak power, putting you in full control wherever you take your bike. Offroad TC is enabled at the same time. Some serious trail scorching awaits.
OFFROAD TRACTION CONTROL The Offroad TC mode allows up to 100% slippage - i.e. double rear wheel speed - for ambitious offroad use. Turn it on and master controlled drifts with ease.
OFFROAD ABS The Offroad ABS mode allows the rider to block the rear wheel as and when required - a prerequisite for committed offroad riding and deliberately executed slides. The ABS function remains active on the front wheel, but it intervenes later and builds up braking pressure in a different way to find grip on loose surfaces.
CRUISE CONTROL The standard cruise control laughs at long motorway journeys. Switches on the left side of the handlebar and a display in the TFT dashboard allow the rider to intuitively set and change the requested speed, so you'll arrive at the fun bits with energy to spare.
RACE ON Forget about ignition keys and mechanically locked fuel caps. All you need is the transponder in your pocket.
KTM MY RIDE New Turn-by-turn Navigation with KTM MY RIDE Navigation. For the navigation use case the rider needs to download the new KTM MY RIDE app (further information available on WWW.KTM.COM/MY-RIDE). The app transmits the turn-by-turn directions, the distance to the next turn, the street name and the arrival time/distance to the destination via Bluetooth to the dashboard of the motorcycle. In addition, audio guidance in various languages and offline maps are also available. KTM MY RIDE features navigation, accepting incoming phone calls and controlling your phone's audio player. Available from January 2018 for MY18 1290 SUPER ADVENTURE S and R (also including production dates prior to January 2018) and retrofitable to MY17 1290 SUPER ADVENTURE S and R.
All inventory listed is subject to availability and prior sale. Manufacturer's Suggested Retail Price (MSRP) if shown for a vehicle excludes set-up, freight, taxes, title, licensing or other dealer charges, and is subject to change. Individual prices may vary. Please request a quote for specific pricing.